INDIVIDUAL LOAD CONTROL IN PROFESSIONAL FOOTBALL (VIRTUAL PROGRAM)
Flexible training from home

Online seminars with top people with expertise
Nächster Start im OKTOBER 2023
Nächster Start im OKTOBER 2023
Get a virtual head start now –
COMPREHENSIVE KNOWLEDGE FOR YOUR CAREER
Future-oriented teaching takes place virtually! We at the International Football Institute (IFI) understand your needs and know that you cannot and do not want to be tied to a fixed location or fixed times when it comes to your own education and training. We have responded to this.
For us it is clear: You have every chance to become even better, even from home or on the road. We always provide you with the latest input at the highest academic level. Always with the aim of further qualifying you in your current field of activity. And we do it as conveniently and flexibly as possible.
Why we can do that? Since its foundation ten years ago, the IFI has pursued an innovative approach to learning. That's why our hands-on education and training programs have always been semi-virtual . Due to this experience and our professional expertise, we are able to offer you a four-week special program in the field of athletics. It focuses very specifically on individual load management in professional soccer.
"In order to enable continuous performance development and reduce the risk of injury for players, individual and systematic stress management is necessary in soccer. This ensures that overloads are avoided in both the preparation and competition phases and that ideal stimuli are set for players to play the best possible season," says sports scientist and program director Florian Leins.
The special feature: This compressed knowledge program runs completely virtually and is application-oriented . Our top IFI people will guide you through the program. They are supported by top-class people with expertise from the world of soccer, from whom you can not only learn in online seminars, but with whom you can also engage in personal exchange.
By participating in the 4-week virtual athletics program, you'll expand your soccer skills and gain a competitive edge over your competition. Because with you, the future is already present.
Program expert Denny Krcmarek
Co- and athletic trainer SV Lafnitz
Program expert Georg Wallner
Athletic trainer, SpVgg Unterhaching
Program expert Florian Klausner
Managing Director Traintelligent
CEO FIFA Medical Center of Excellence Innsbruck
ONLINE SEMINAR
Learn in three online seminars with a duration of 90 minutes each plus replay time from our top people with expertise and get answers to your individual questions.

ONLINE-LERN­PLATT­FORM
Get access to our online learning platform for four weeks, where our top people with expertise will prepare selected learning content for you to deepen your knowledge.

ONLINE LIBRARY
Take advantage of four weeks of access to our comprehensive online library of over 2,000 textbooks, journals, and scholarly journals.
PRACTICALITY
Gain insights into the daily tasks and challenges of our top people with expertise through application-focused program content.


LOCAL & TEMPORAL FLEXIBILITY
Develop yourself comfortably and securely from home or your desired location – and adapt the learning times to your individual needs.

CERTIFICATE OF ATTENDANCE
Receive written confirmation of participation for your next career steps after each successfully completed Virtual 4-Week Program.
SHORT PROFILE OF THE PROGRAM "INDIVIDUAL LOAD MANAGEMENT IN PROFESSIONAL FOOTBALL
PERFORMANCE SPECTRUM
Certificate of Attendance

LEARNING CONCEPT
Purely virtual continuing education

TEACHING FEE
299,- € (one-time)

TARGET GROUP
Interests of a club representatives, active players, soccer enthusiasts

APPLICATION DEADLINE
01.10.2023
TEACHING DURATION
4 weeks

LESSON DATES
Webinar 1: On-Demand
Webinar 2: On-Demand
Webinar 3: On-Demand
Program contents
INDIVIDUAL LOAD CONTROL IN PROFESSIONAL FOOTBALL
*The content can be viewed by clicking on the plus
Among other things, the virtual 4-week programs give you access to the content of our unique learning platform.
Here you can continue your education proactively and at the times that are optimal for you.
GET THE POINT: By participating in a virtual 4-week program, you can earn one experience point toward the entrance exam process for DFB coach education programs.
Among other things, athletic trainers have the task of optimizing the soccer-specific endurance performanceof their players based on sound basic endurance. Especially in amateur and youth soccer, there is still enormous potential in this area when it comes to optimizing the performance of individual players, but also of the entire team.
Following the program, our participants can set up and develop an ideally coordinated athletic training program depending on their competition calendar..
Your contact person Andreas Giglberger
Manager Aus- & Weiterbildung
International football institute
Steinheilstr. 8
85737 Ismaning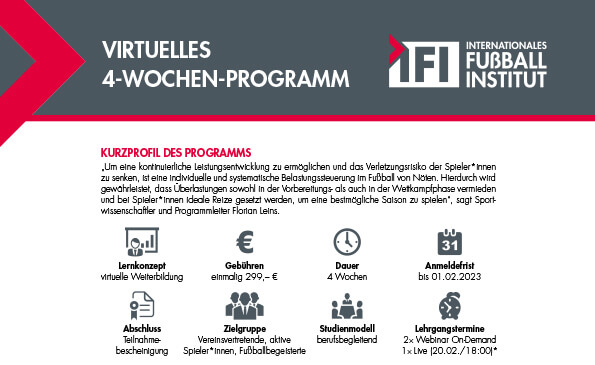 DIESE ONLINE-KURSE KÖNNTEN DICH
AUCH INTERESSIEREN