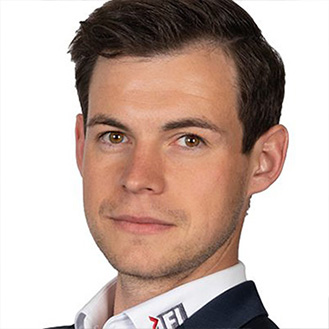 is head of the department of match & tactical analysis, scouting and squad planning at the International Football Institute. The graduate sports scientist and ergonomist is particularly concerned with qualitative game analysis and scientific description of the sports game football. Markus Brunnschneider is also a lecturer for the "University Certificate Game Analyst" and is responsible for the video analysis and video technology module.
Academic background
2015 – 2016 International Football Institute, University Certificate " Match Analyst in Professional Football"

2014 – 2017 Technical University of Munich, Master's degree in "Human Factors Engineering – Ergonomics",
Master Thesis: "Modelling the behaviour after ball loss in football".

2010 – 2015 Technical University of Munich, Bachelor's degree programme "Scientific Foundations of Sport
Bachelor Thesis: "Technique analysis of the prone position of young shooters in the Bavarian squad and derivation of performance-determining parameters".
Steinheilstraße 8, 85737 Ismaning
Professional experience
Since March 2018 Head of Department "Game and Tactics Analysis & Scouting and Squad Planning" at the "International Football Institute

Since August 2019 Head of Innovation Scouting/Performance "SV Darmstadt 1898 e.V."

Sept. 2016 – Feb. 2018 Research assistant at the "International Football Institute – Department of Match and Tactical Analysis", focus on opponent analysis and match plan development

June 2016 – July 2019 Match analyst Licensed player "KSV Holstein von 1900 e.V.".

July 2016 – July 2019 Scout "KSV Holstein von 1900 e.V.". Focus on Bavaria and Austria

Feb. 2016 – July 2016 Match analyst "Wolfsberger AC" (focus on opponent observation)

Since July 2015 Training of filmmakers and quality control "Die Ligen GmbH" for the whole of Bavaria

Sept. 2015 – Jun. 2016 Co-coach "TSV 1860 München" U17 Bundesliga (Head coach: Josef Albersinger)

May 2015 – July 2015 Recording of scouting feeds for "Die Ligen GmbH".

Sep. 2013 – Feb. 2015 Video analysis "FC Bayern München" Junior Team (Trainer: Erik ten Hag / Heiko Vogel / Heiko Herrlich / Peter Wenninger)

Aug. 2011 – Aug. 2013 Video footage "FC Bayern München" U17 Bundesliga (Coach: Stefan Beckenbauer / Antonio di Salvo / Marcus Sorg)

Jul. 2013 Aqua-Fitness-Instructor

Jul. 2013 Course leader "Progressive Muscle Relaxation

Jan. 2013 Myofascial Taping Advanced Course and Sports Performance

Nov. 2012 Myofascial Taping Basic Course

Nov. 2012 – Nov. 2014 Coach Air Rifle of the District of Upper Bavaria

Dec. 2011 Indoor-Cycling-Instructor

Feb. 2011 – March 2011 "Office Workshop" of the Chamber of Crafts for Munich and Upper Bavaria